I wanted to go to Australia's red centre seemingly forever.  I had seen many of Australia's urban areas, but it was hard to feel like I had "seen" Australia until I made it to Australia's Outback.  The Outback takes up the majority of our country, but is not easy to visit when you grow up in Tasmania.  When we suddenly had a few days available and enough frequent flier points to make it to Alice Springs, smack bang in the middle of Australia, we were off!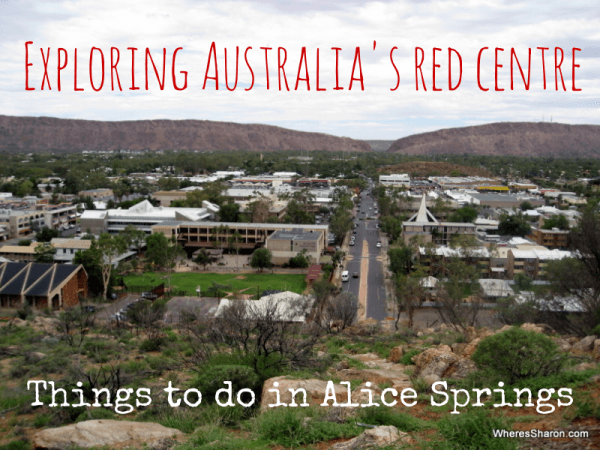 Alice Springs
There is evidence that Aboriginals have lived in this region for over 30,000 years, but Alice Springs was only settled by the Europeans in the 1870s.  This was part of the endeavour to link Adelaide and Darwin by an overland telegraph line.  A repeater station was required in this area and Alice Springs (or "the Alice") was born.
Today, Alice Springs is home to nearly 30,000 people.  It is a long way from everywhere – the Northern Territory capital of Darwin is 1500 kilometres away.  It is even 6.5 hours from Uluru.  We did not really know anything about Alice Springs before we left, but we were intrigued to find out.
Arriving in Alice Springs
We visited in late November so just before the start of Summer.  We were worried about how hot it would be, but we need not have worried.  It was hot, but not unbearably so. It is a dry heat, so we found it reasonably pleasant
We hired a car at the airport as this was the easiest way to get around unless we wanted to do a day tour.  We hopped in the car, turned up the air conditioning and drove off to discover all the things to do in Alice Springs.
One of the first things that struck us, and would continue to for the next couple of days, was how green things were. We could still see the red earth that the Outback is famous for but there were plenty of trees, bushes and the like.  We were later told that the area had had their wettest November on record. As prettty as it was, I felt a bit ripped off as I wanted sandy red vistas like I had seen so many times in pictures.  It did not really feel like Australia's red centre.
Anyway, here are some things to do in Alice Springs that we explored during our day here before heading to Uluru.
Old Ghan Railway Museum
Our first stop was the Old Ghan Railway Museum. There was a small museum showing various things related to this railway and some old train carriages we could walk through. At $10 the price was rather steep, and we didn't feel that we got our money's worth as there wasn't much of interest. It was cool walking on the old train though and checking out the bar and kitchen.
Old Telegraph Station
We then drove to the other side of town (not that you would have been able to tell, it's small) to the old telegraph station. This was much more interesting thing to do and definitely worth the entry price.
It's located where the first settlement started in this area.  It began because there was a need for a relay station for the telegraph line between Darwin and Adelaide. I found myself trying to imagine what life must have been like for the people who staffed the station, being so far away from everybody and everything on this harsh land. I'm not sure how they could do it.
It must have been such a massive thing for Australia when the telegraph line was put in.  It suddenly only took hours to get news from the rest of the world instead of months. In this age of smart phones, internet and satellite TV, it's hard to imagine.
The site is a series of old buildings with explanations of their old uses.  There is also a section detailing the station's stint as a home for half white and half aboriginal children and exhibits on the stolen generation.
Anzac Hill
After this, we only had one site left that we felt was a must see thing to do in Alice Springs, and that was a visit to Anzac Hill. It's in the middle of town and not very high, but since nothing else is either, we had a good view of the town and the Outback. It's bizarre to see very green sports grounds with piles of red rocks right next door.
Todd Street Mall
We then parked at the supermarket and went for a walk round the centre of town. This didn't take very long at all. The main shopping strip, Todd St Mall, doesn't have much.
We found that the one thing we had heard about Alice Springs before visiting – that lots of Aboriginals are just hanging around – to be true. All round the centre there were groups of people just sitting around which didn't give the town the best feel .
Dinner time at Bojangles
That evening we went out for dinner in a pub called Bojangles. It's made quite a name for itself and the manager of our hotel had convinced us to eat there.  It didn't seem that exciting when we arrived.  The only thing of note was the very diverse crowd in there. The food was quite expensive, but the menu sounded very good so we had soon ordered and were tucking into a great chicken mignon, in my case, and a territory mixed grill in Josh's. The mixed grill consisted of lots of "exotic" meats such as camel, crocodile and buffalo. It was all very good.
Unfortunately, the service was bad, and we ended up quite annoyed for various reasons. There was some cool parts though. They had some quirky things, like the door handles on the wrong side of the door and turning on a tap in the bathroom would cause water to run in a sink somewhere else in the bathroom.
It was then back to bed for a reasonably early night for our big day trip toUluru the next day.
Our verdict?
We enjoyed our day in Alice Springs.  It's main attraction is really the fact that it is in the red centre of Australia so far from everywhere.  I found the Old Telegraph Museum definitely worthwhile, but otherwise it was more about trying something different and seeing a very different part of Australia.
With kids?
We did this trip before we had kids, but I foresee no problems doing all these activities with kids.  I think our kids would love the Old Ghan Railway Museum thanks to the trains, and the Old Telegraph Station has lots of open space to run around and explore.
You can also read about our time in the Outback underground town of Coober Pedy.
What other things to do in Alice Springs would you recommend?